Church Address
5801 Racine Street
Corner of 58th St & Telegraph Ave
Oakland, CA 94609

Need directions? Click here.
Administrative Office Address
514 58th Street
Oakland, CA 94609
Tel: 510.652.4915
Fax: 510.858.7205
Pastor: 510.652.9719
For General Church Information:


Connect with Us!
Sign up for our Email Newsletter

Welcome
Pastor Stephen King & the Memorial Tabernacle Family invite you to become a part of a growing ministry that is "reaching to teach, teaching to change" one person and one block at a time. Join us in our times of corporate prayer, our worship, our fasting, our commitment will continue throughout the year. Also, you are invited to worship Sunday at 10:30 a.m. Find your place to GROW at MTC and continue to pray with us. Have a week filled with giving thanks, praise, expectation, thanksgiving, and celebration!
This Week's Newsletter
October 4, 2015 | "GUESS WHO'S COMING TO DINNER?" (Mark 2:15-17); Speaker: Pastor Stephen King


Find Your Place to Grow
Check out our Calendar and newsletter above
for ways you can engage in the ministry!


Bible Study Tuesday Nights in the Main Sanctuary Join your church family as we read, study, and understand the Word of God. Doors open for Bible Study by 6:45PM, and it is held in the VIP Room. Bring your friends, family, co-workers, etc.
2-Day Women's Gathering Saturday, Oct 17 & Sunday, Oct 18 Join Elder Jeanette and the Women's Ministry of Memorial Tabernacle Church for a 2-day women's gathering with goals for each woman to be encouraged, inspired and empowered; make changes/rearrangements if necessary so what is necessary becomes a reality. Register to participate: https://goo.gl/209zix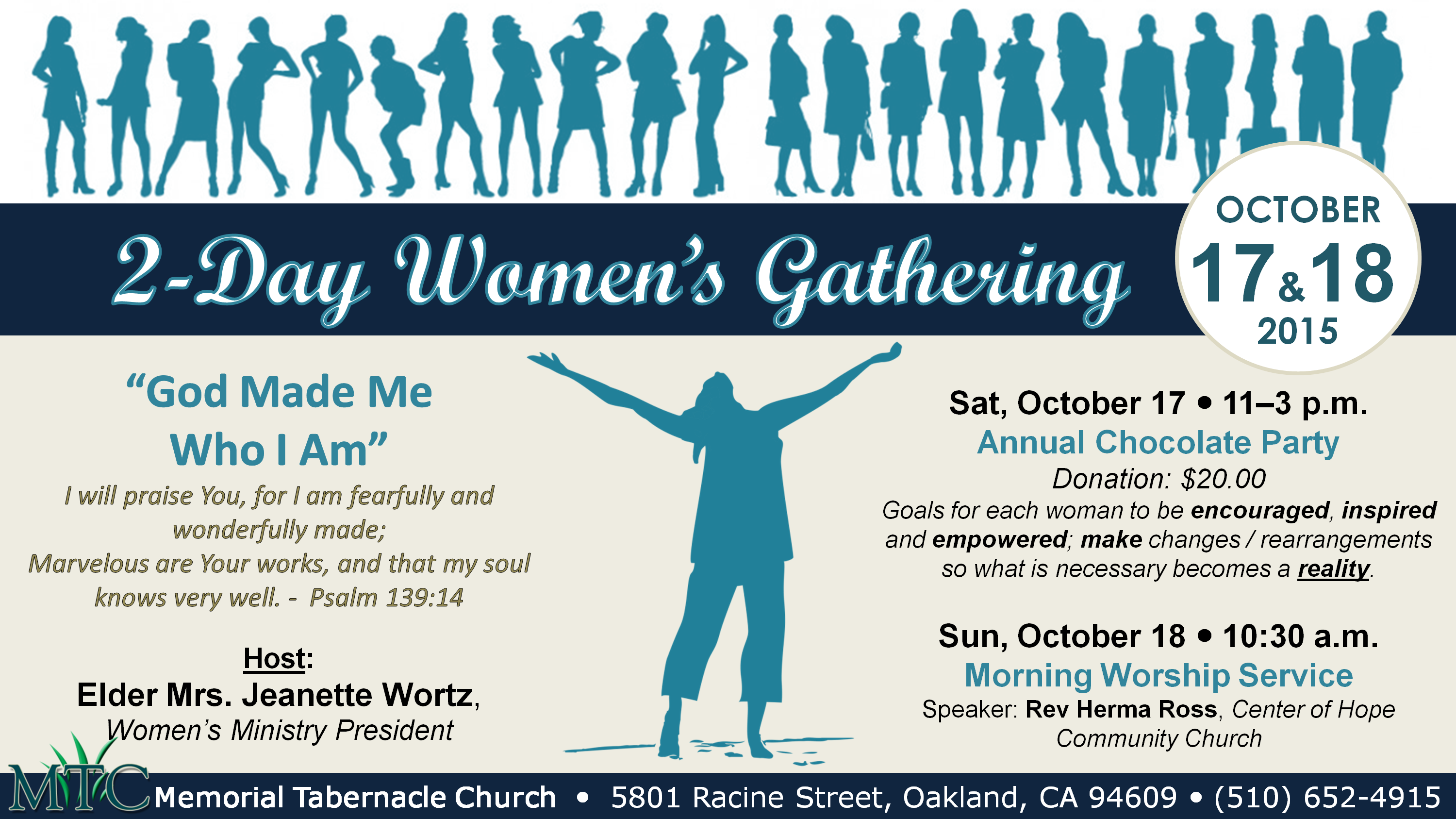 Sunday Services

| | |
| --- | --- |
| Sunday School | 9:15 AM |
| Glory Prayer & Praise | 10:00 AM |
| Morning Glory Worship Service | 10:30 AM |
| Evening Prayer | 6:00 PM |




Weekly Services

| | |
| --- | --- |
| Mondays:Saints-in-Prayer Hour | 6:00 PM |
| Tuesdays:Shepherd's Bible Study | 7:00 PM |
| Thursday:Thirst-Day Prayer | 6:00 AM |