Church Address
5801 Racine Street
Corner of 58th St & Telegraph Ave
Oakland, CA 94609

Need directions? Click here.
Administrative Office Address
514 58th Street
Oakland, CA 94609
Tel: 510.652.4915
Fax: 510.858.7205
Pastor: 510.652.9719
For General Church Information:


Connect with Us!
Sign up for our Email Newsletter

Welcome to The Family!
Pastor Ulysses Stephen King, Jr., Mrs. Tiffany, and the Memorial Tabernacle Family welcome you to the family. We invite you to become a member of a family of believers God is using to "reach to teach, teach to change" one person and one block at a time. We pray you will choose to attend the reunion to receive the love God has given us to give to you specifically!


Christmas Love-reach Benefiting Young People in Need
Memorial Tabernacle Church is offering love to our most vulnerable members of the community - our children and young people! The MTC Christmas Love-reach will impact and benefit those who are a part of the OUSD McKinney-Vento Program, Pioneers for H.O.P.E., & First Step Outreach. They will be there to tell share more about their programs! Join us December 16, 1:00-5:00PM. Click the photo below to get more information on how to give: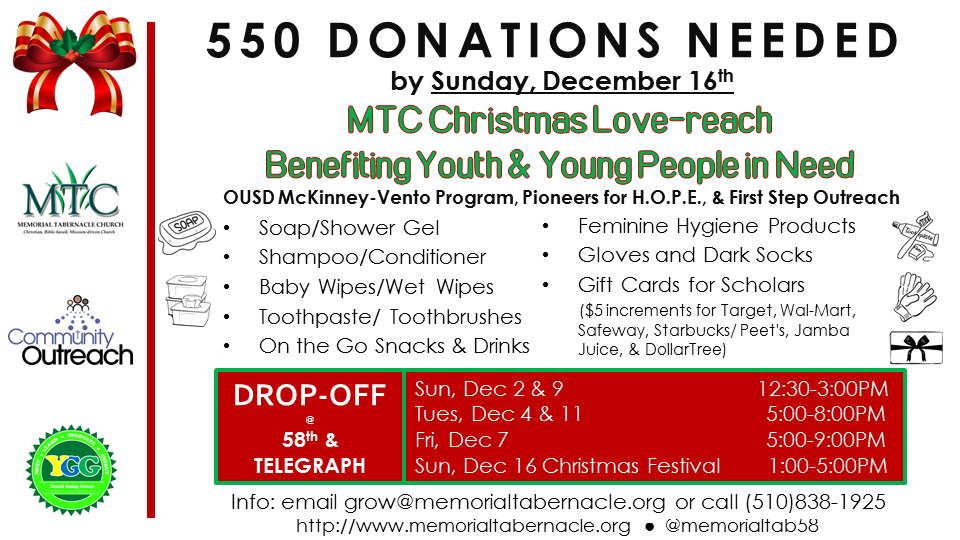 Find Your Place to Grow
Check out our Calendar and newsletter above
for ways you can engage in the ministry!
Sunday Services

| | |
| --- | --- |
| Sunday School (except 3rd Sunday) | 9:15 AM |
| Glory Prayer & Praise | 10:00 AM |
| Morning Glory Worship Service | 10:30 AM |
| Servant's Prayer Hour | 6:30 PM |




Weekly Services

| | |
| --- | --- |
| Mondays:Saints-in-Prayer Hour | 6:00 PM |
| Tuesdays:Conversational Bible Study | 7:00 PM |
| Wednesday (1st & 3rd):Music Ministry Rehearsal | 6:30 PM |